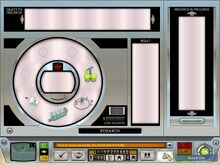 Research
enables your scientists to develop new and more useful objects for your organization.
The evil research program, aided by your team of qualified Science Minions, allows them to use advanced scientific equipment to develop new objects and evil technology the likes of which that is far beyond ordinary science for your evil organization, like electrical charge cannons, man-eating plants, cloning machines, shrink rays, making gold with alchemy, producing freak monsters under your control, super weapons, etc.
When you have a Databank and a Research Machine, Science Minions with nothing to do will wander around your base, considering everything around them for research. Eventually, they may uncover objects that will yield beneficial results when researched. These are listed as ingredients in the research screen. To carry out research, simply select an ingredient, and one or more pieces of lab apparatus from the screen, then hit the go button. You can use the cash incentive button to remove apparatus that will not result in success, but you do this at the expense of a cash penalty.
This process can only be conducted by Science Minions, and conducted in a laboratory. It's best for the Scientist, Biochemist and Quantum Physicist to do the research. Although a Technician can do research, they are slowest at doing so and their time is better spent repairing objects.
Before you can begin research on something, your science minions must find objects they can do research on. These objects can be regular items or pieces of your stolen loot treasures. After your science minions have documented this item in the databank, you must select the research apparatus (up to three) you want to perform tests on. Once you have done that, your science minions will begin research. If it is successful, you can now purchase the item the research has unlocked. If not, you must try again.
Research Guide
Edit